About The Product
Download Product Manual HERE
PumpMD™, created and patented by IoT Diagnostics™, a product integration company for industrial IoT devices, is the ONLY complete predictive maintenance device for hydraulic axial-piston pumps.  By monitoring the temperature, pressure, and flow of oil coming out of the case drain, we can monitor the efficiency of the pump, detect a failure before it happens and alert the user to avoid the massive cost and lost production during machine downtime.  
The Configurator
Ensuring the efficiency of your hydraulic pumps and overall production process can be easily done in a few steps.  Our online configurator will allow you to completely customize your PumpMD for any pump size & manufacturer; using only five predetermined parameters of case drain characteristics set by the manufacturer:
• Case Drain Port Size (SAE only)
• Continuous Speed (RPM) of the Drive Motor
• Displacement of the Axial-Piston Pump (Cubic Centimeters or Cubic Inches)
• Maximum Allowable Pressure of the Pump's Case Drain (PSI)
• Maximum Allowable Temperature of the Pump's Case Drain (Fahrenheit) 
Once configured using the above five parameters set by the manufacturer, our proprietary algorithm developed in part with hydraulic pump manufacturers generates the optimum pressure, temperature, and flow trip points for your PumpMD.  You can now breathe easy as you will be notified when the PumpMD detects a problem preventing catastrophic system failure.
Product Details 
PumpMD - Wi-Fi - IoT Diagnostics Equipped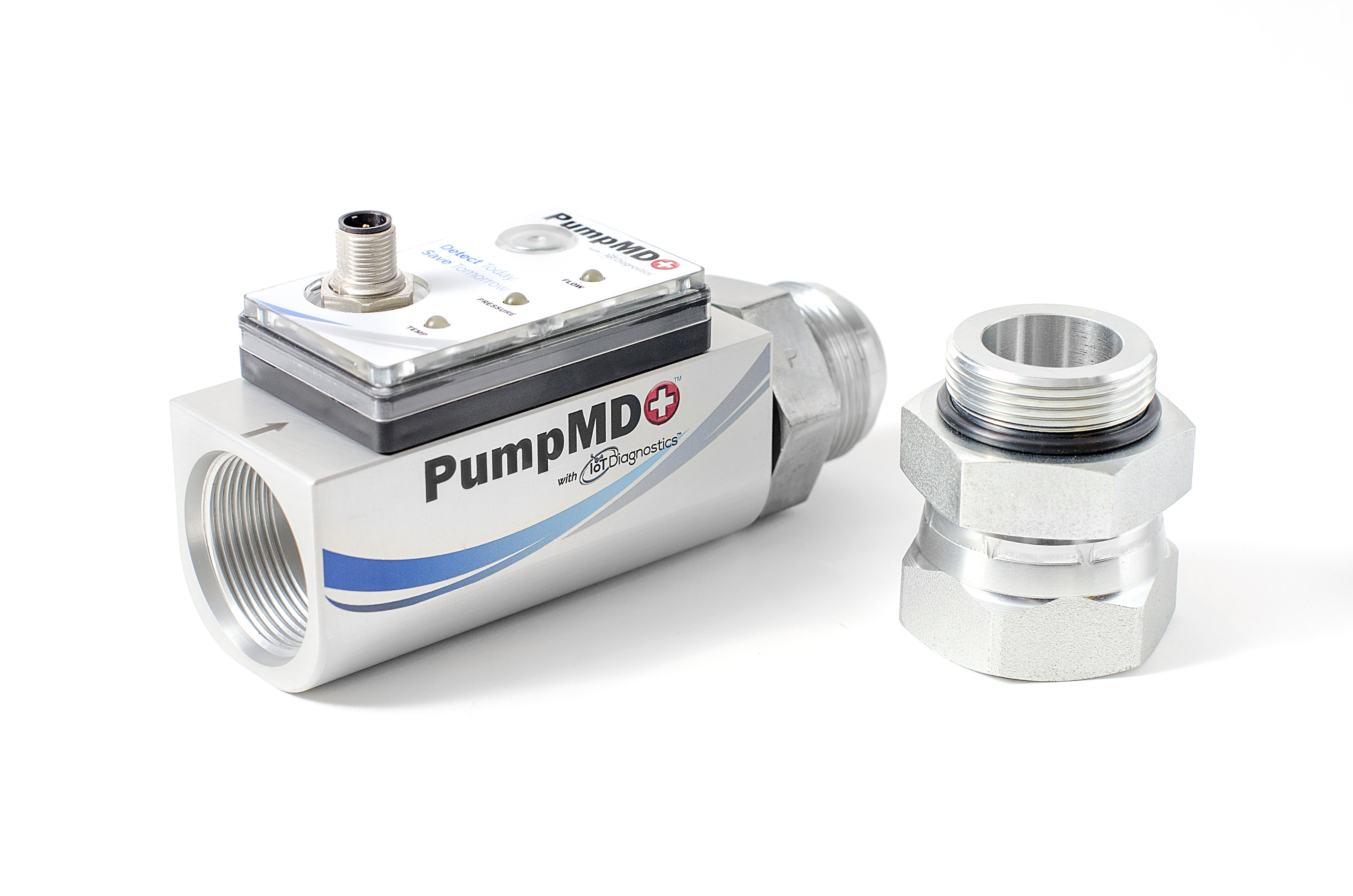 Monitoring Features
1.       Real Time Alerts – Push Notifications to Phone or Email
2.       Individual Pump Efficiency Reports
3.      
Plant Wide Pump Ranked Efficiency Reports
4.      
Historical Pump Data for Efficiency Trending
5.      
Easy Scheduling of Predictive Maintenance for                                    Inefficient Pumps
6.      
Request Service/Repair or Technical Support of                                    Machinery from Web App
Connection Data
Wi-Fi:
2.4GHz IEE 802.11 b/g Wireless LAN Module
Security:
WPA-PSK (TKIP), WPA2-PSK (AES)
Networking:
Unique MAC Address
Sensitivity:
-83 dBm Typical
Power Output:
0 to +12 dBm